The Tudor Prince line sits at the crossroads between the Tudor of old and the revamped brand that many are excited about today. It is the classically styled, ETA-based younger brother to the Rolex Day-Date available at just a small fraction of the price. The example I picked up has a linen dial, whose texture plays with the light in subtle ways and brings an interesting and more unique element to the watch. However, some time on the wrist makes it quickly apparent that Tudor definitely cut some corners on this Prince. Does it still deserve a spot in your collection? Read on to find out.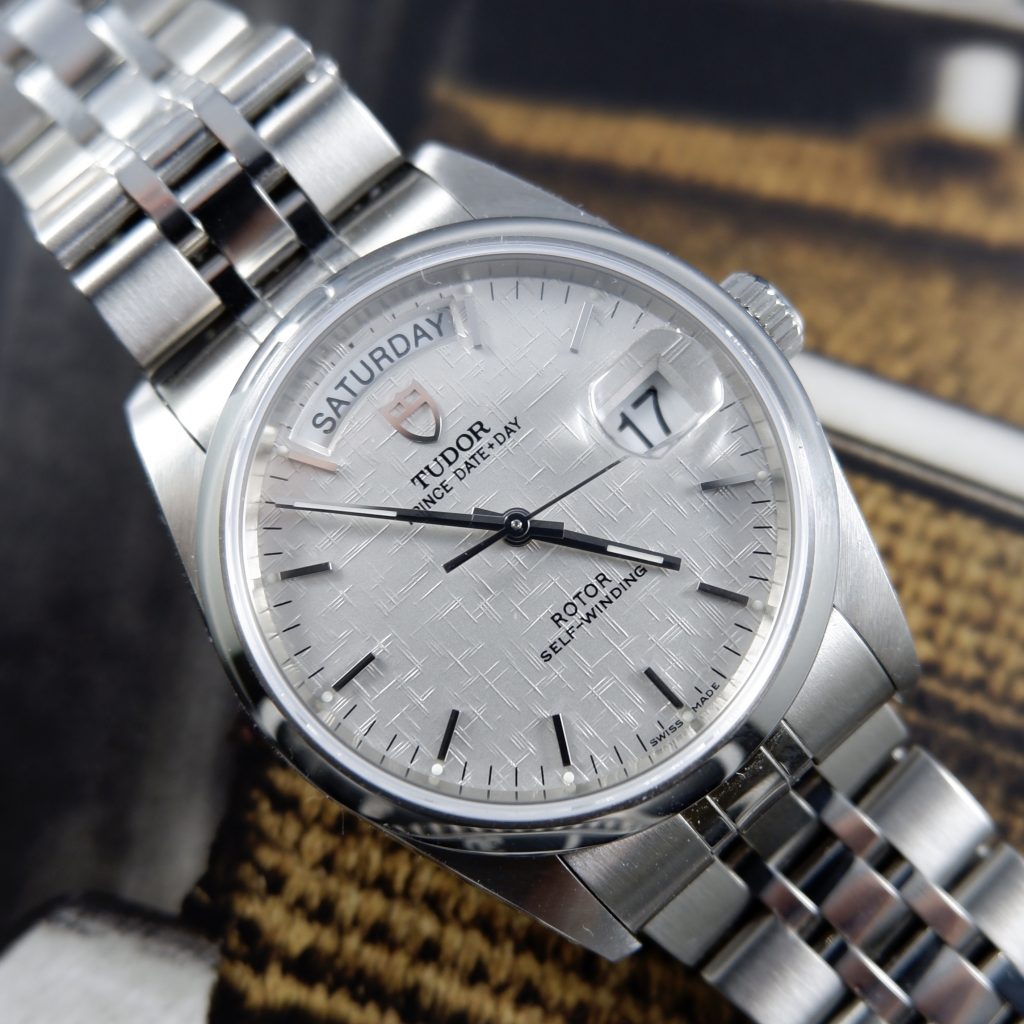 First, let's get some basic dimensions and specifications out of the way:
Movement: ETA 2834-2 (running +3s/day for me)
Water resistance: screw-down crown, 100m
Case width: 36mm
Lug-to-lug: 43mm
Lug width: 19mm
Case thickness: 10.2mm (11.3mm including cyclops)
The 76200 is a long-running reference available since at least the 1990s, but currently has been discontinued by Tudor. Online reports indicate that the model, while missing in western ADs for several years now, has been continually available in locations such as Hong Kong and Macau, and perhaps may still be today. Indeed, my example names the official retailer as Bern Watches Co., Ltd of Macau, with the warranty card dated July 2019.
On my 6.5″ (16.5cm) wrist, the watch wears quite well with its classical dimensions. At 36mm in width and 43mm lug to lug, it's a great unisex option as well. Throw it on a leather strap and the Tudor Prince 76200 is a great watch to pair with a suit for any formal occasion. The thickness, at just over 10mm, would allow it to easily slide under any dress cuff.
As I mentioned above, the Tudor that produced this watch is starkly different than the brand that we know today. Tudor's modern identity as a fun and almost experimental branch of the stoic and traditional parent company is missing in the 76200. You won't find any unique design language or in-house movement here. Instead, it adheres to the traditional Tudor philosophy – to be a pared down, more affordable alternative to Rolex.
Just how affordable? I was unable to find an official MSRP of the model, which probably varies by region and sale date anyways. However, examples such as my own, available for sale by individual collectors in brand new condition with full box and papers, can be found at $2000 or less. That's a hefty discount over any Rolex Day-Date, which generally can only be found in precious metal. But aside from the difference in case material and movement, the most noticeable instance of corner-cutting in the Tudor Prince 76200 is undoubtedly the bracelet and clasp construction.
First of all, I won't hesitate to highlight that there are a few positives. The bracelet is sized with screws rather than pins, a more reliable and high-end option that even the Grand Seiko Snowflake, a collector favorite that trades for more than twice as much on the secondary market, doesn't. The links also appear to be solid, although online accounts indicate that older 76200 watches had bracelets equipped with folded links. Finally, there is micro-adjustment via a set of pin holes in the clasp, although I would expect nothing less.
However, beyond that there are a few issues. The hollow end links are definitely an example of cost cutting. The clasp feels cheap and is friction based instead of featuring a more secure trigger or locking mechanism. But by far the biggest issue for me with this watch on my wrist is the constant assault on my wrist hairs by the bracelet. This might actually be the worst case of bracelet hair pulling that I've ever experienced; the bracelet on a $80 Citizen Eco-Drive I once owned was more comfortable. Perhaps a lady would be able to wear the watch on the bracelet in greater comfort, but I am all but forced to take the watch off the bracelet and put it on a strap. The only silver lining is that the drilled lugs of the case make it easier to do so.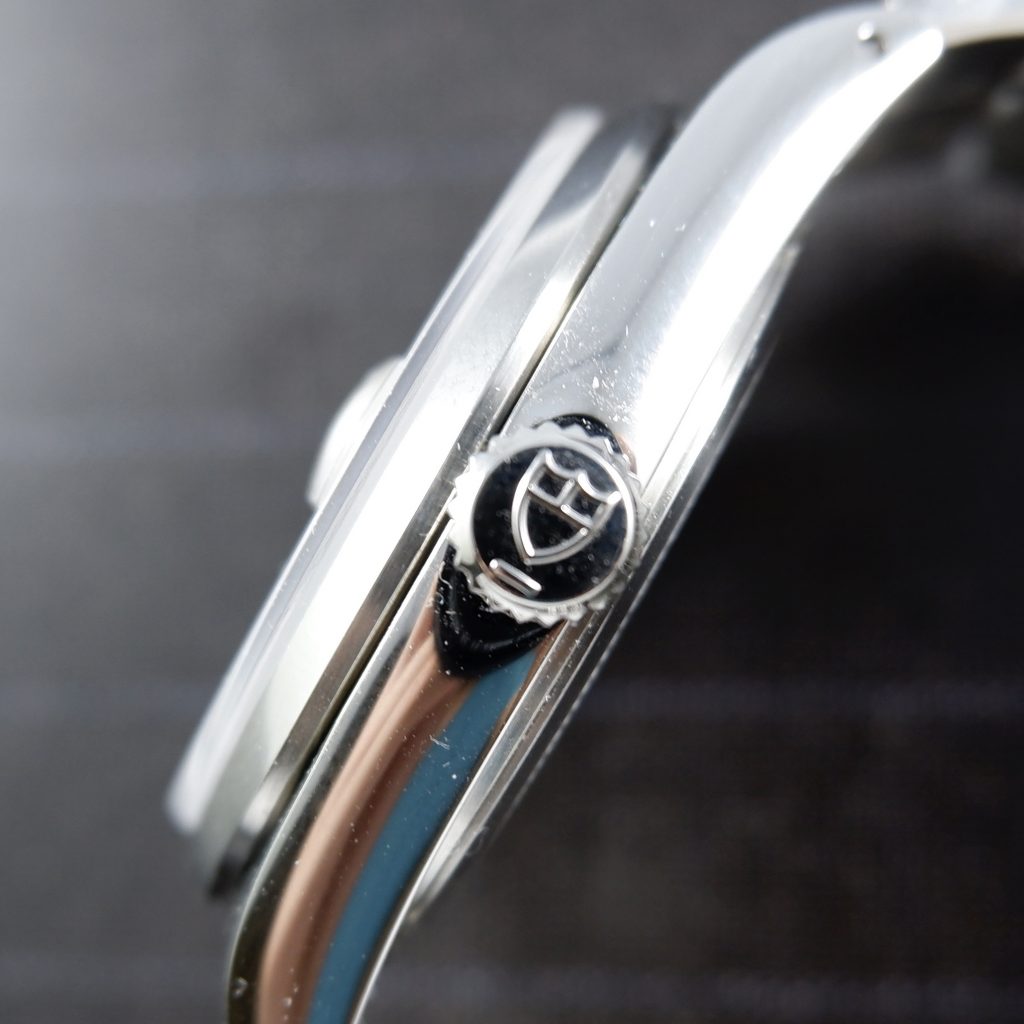 Practically, the Tudor Prince 76200 makes a strong argument as an everyday watch – if you're okay with the smaller case size. It checks many boxes – stainless steel, automatic winding, water resistant, (albeit rather limited) lume and a very useful day and date complication. But the biggest selling point to me is that beautiful linen dial that you just don't find on many modern watches anymore. Aside from the texture, the color of the dial also changes depending on the light – from dark grey to silver to almost champagne when in direct sunlight.
So considering this Tudor as a full package, what's the verdict? If you don't have a problem with the case size or bracelet comfort, then I would definitely contemplate picking one up. You also have a large variety of production years, dials, and marker combinations to choose from. The watch is handsome but subtle and comes from a prestigious brand that doesn't really have anything like it in their current lineup (the closest option might be the Black Bay 36). At around $2000 new, or around $1,700 pre-owned, it's a solid buy to consider.