To me, there are a few characteristics required of an everyday watch suitable for any occasion. In order of importance, they are: water resistance, stainless steel construction, a sapphire crystal, and strong lume.
Such contenders include just about any stainless steel Rolex, a big reason why the brand has such large mainstream success. The Tudor Black Bay and Omega Seamaster are also strong options. A more unconventional choice could be a sports watch from Grand Seiko.
It is these characteristics, I believe, that in large part make sports watches all the rage these days. Contenders that fit the bill are watches that can hold their own against the "perils" of everyday life. Simply put, they can be enjoyed without having to be worried about or babied.
In this category, the Omega Aqua Terra is the most compelling option for my money. Here are three reasons why.
Understated yet versatile in appearance
As you may have noticed, many of the options I enumerated above are dive watches. Personally, I would consider a type watch a type of sports watch. However, they do tend to lack the versatility of a sports watch without a rotating bezel.
The Omega Aqua Terra is equally suited towards both casual and dressier occasions. Yet, it doesn't compromise in terms of water resistance – the standard 150 meters of every Aqua Terra is more than sufficient for any everyday use case.
The watch is understated – particularly the older generation models before Omega started added more polished surfaces. They've also done a good job of keeping the DNA of the Aqua Terra as it has evolved. In typical Omega fashion, there are also seemingly endless variations of Aqua Terras to choose from, with tons of dial colors options and special edition releases.
The Aqua Terra is also offered in multiple sizes – the standard ones being 38mm and 41mm. There's even a gorgeous world timer model that is offered in 43mm. This makes the watch equally appealing to many different wrist sizes – though the 38mm option is personally a no brainer.
Mechanically unique
One of the first things you pick up on as a watch enthusiast is that it's what's on the side that matters. For that reason, I would argue that the Aqua Terra is not only the perfect everyday sports watch, but also the perfect entry-level luxury watch. In fact, it was the first luxury watch I ever purchased.
Of course, what makes Omega watches mechanically unique is the use of the co-axial escapement. Though it's debatable whether or not a co-axial escapement is "better" than the traditional Swiss lever escapement, the main advantage is the reduction in friction in components, theoretically resulting in less wear and thus longer servicing intervals. An excellent overview of the co-axial escapement from Worn & Wound can be found here.
It's interesting to note that Omega did not invent the co-axial escapement, nor do they hold exclusive rights to the technology. However, Omega's modern co-axial movements are incredibly reliable, and for better or worse the co-axial has become a marketing phenomenon that has helped revitalize the Omega brand in recent decades.
And then there's the matter of finishing quality. Based on my experience, I haven't seen any other brand – with the exception of Grand Seiko – match Omega in terms of movement decoration at the price point. The use of blued screws, the clear labeling of the movement caliber, and application of Côtes de Genève in Arabesque (curved spirals radiating from the center of the movement) have made Omega movements instantly recognizable and quite beautiful. Granted, Omega watches are largely machine finished, but this is not at all surprising for the price point.
Affordable and available
On the subject of price point, it might surprise you that the Omega Aqua Terra is actually surprisingly affordable. After all, the standard Aqua Terra on a bracelet retails for $5700, which is $500 more than the standard Seamaster Diver 300M on a bracelet.
Yet, as is typically the case, the true value lies in the secondary market. The Aqua Terra overall tend to depreciate more than the Seamaster Diver 300M – the same Aqua Terra mentioned above has a secondary market value of ~$3700 on a bracelet or ~$3500 on a strap, while the same Seamaster has a value of ~$3900. This, coupled with relatively low demand and a ton of available options (there are over 300 Aqua Terra models in the current catalog alone), means that it's quite likely that you can find one at a good price – if you employ some patience.
To provide a quick overview, older quartz and mechanical models can be found between the mid-$1000s to the low $2000s. These models can be identified by the shorter reference number format (xxxx.xx.xx) and the use of a rectangular date window at 3 o'clock. The mechanical models use the co-axial caliber 2500. Below are the prices for a quartz and mechanical option from this generation.
| | |
| --- | --- |
| Retail Price | ~$2,935 |
| Market Average | $2,298 |
| Appraisal Value | |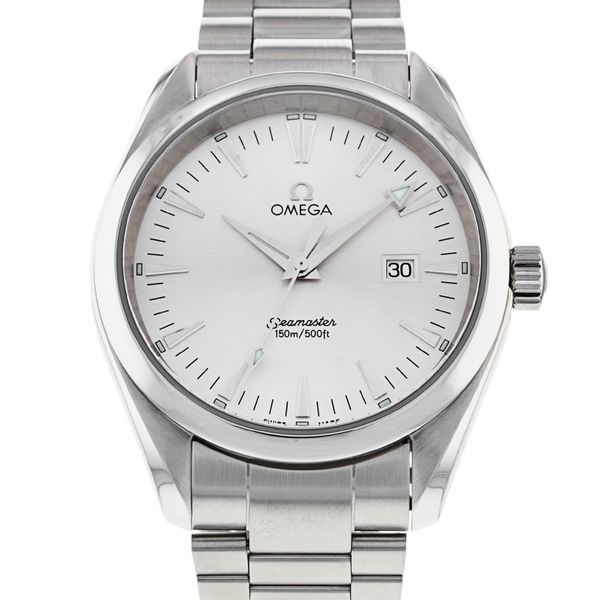 | | |
| --- | --- |
| Retail Price | $2,300 |
| Market Average | $1,568 |
| Appraisal Value | |
If you decide to go for a more recent or current generation Aqua Terra model, you'll most likely be looking for a watch that uses either the caliber 8500 or 8800. Expect to pay a bit more for these watches, with a market average somewhere between $3000 and $4000. Check out this reference guide for a comparison between the 8500, 8800, and other variations of model Omega co-axial calibers.
The Omega Aqua Terra in my personal collection is the Skyfall edition, in 38.5mm. Though no longer in production, it can still occasionally be found on the secondary market for a bit over $3000.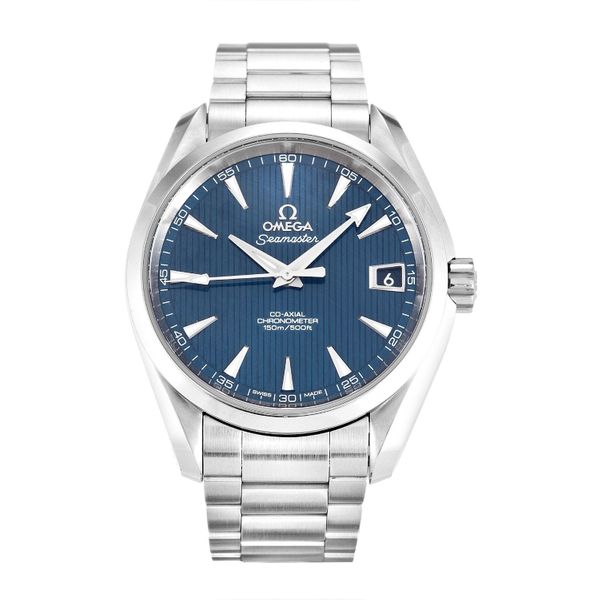 | | |
| --- | --- |
| Retail Price | $5,500 |
| Market Average | $4,020 |
| Appraisal Value | |
Finally, a hidden gem is the Aqua Terra with an annual calendar complication. An Aqua Terra coupled with the highly practical annual calendar complication is quite likely the perfect everyday watch. These models can be quite difficult to find on the secondary market, but are often still available at under $4000 – an absolute steal for such a high-level complication.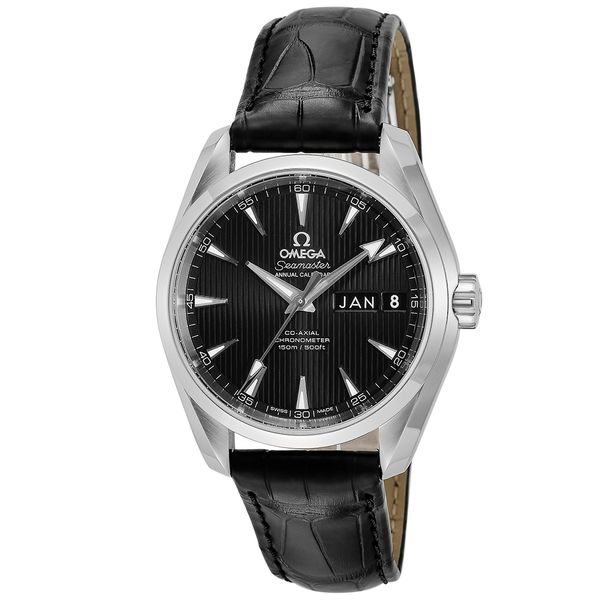 | | |
| --- | --- |
| Retail Price | $8,300 |
| Market Average | $4,062 |
| Appraisal Value | |
The great thing about watch collecting is that there is no right or wrong answer. In the everyday watch category, I've cast my vote for the Aqua Terra with my own money – and told you why. Where do you cast yours?