According to our March giveaway survey, eBay remains one of the most popular platforms to buy and sell watches as of 2020. As of the time of this writing, nearly 2 million wristwatches are listed for sale on the site, with thousands being sold every day. Buying on eBay certainly has its advantages (unfortunately avoiding sales tax is no longer one of them), but also comes with certain risks. Here are five things that you can do to get the most out of your buying experience.
1. Use sold listings to get an idea of market price
One of the first questions you'll probably have about any watch you're interested in buying is whether it is fairly priced. Luckily, eBay allows you to view sold listings for your search query going back the last couple of months. To do this, look at the left sidebar on the search results and scroll down until you see an option named "Sold Items".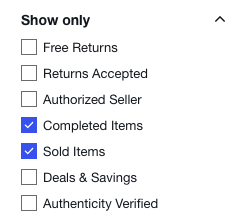 After clicking on this option, the page will refresh and you will only see relevant listings that have sold. The sold price will be highlighted with green text.
Sometimes, as seen in the screenshot above, there will be a strikethrough over the sold price, along with a message "Best offer accepted". This means that the actual sold price was lower than the price the seller originally asked. eBay has historically made it difficult to see the actual sold price, but as of March 2020 it seems that you're able to do so by visiting the following URL. Don't forget to fill in the eBay item number, which can be found in each listing's description.
https://cgi.ebay.com/ws/eBayISAPI.dll?ViewItemVersion&item=<eBay Item Number>
By looking through the sold listings, you can get an idea of what the market price is and use it to compare against current listings. Of course, you can also use the search feature on WatchCharts, or browse our marketplace by brand, collection, and model, to see what prices are like across different forums such as Watchuseek and Reddit WatchExchange.
2. Don't just buy the watch, buy the seller
You've probably heard the phrase "don't buy the watch, buy the seller" – the sentiment being that the best way to ensure a safe and smooth transaction is to purchase from a seller with a solid reputation. I think this is the single most important piece of advice to buyers – the corollary being "if it seems too good to be true, it probably is." No one is selling an AP Royal Oak for $5,000.
To comprehensively check a seller's reputation on eBay, it's important to look at more than just their positive feedback percentage and total feedback count. We'll first want to see a list of all their feedback as a seller. To do this, click the seller's name in the "Seller information" box within any listing and then click the "See all feedback" button as shown below.
Next, navigate to the "Received as seller" tab to see details of when and what exactly the seller has sold in the past.
The first warning sign is if the seller has lots of total feedback, but very little feedback received as a seller. This means they are using eBay mostly to buy. Furthermore, if you see the seller historically only buys small trinkets worth a few dollars each and is now listing a Rolex Submariner at 20% below market value, you can be pretty sure that they're either selling a fake or aren't planning on shipping you anything at all.
Similarly, even if the user does have feedback received as seller, once again check if the transaction history lines up with the item that they're selling. Check the items that were sold, as well as the accounts of the buyers that left the feedback for that item. Particularly dedicated scammers will create many accounts and use them to give each other positive feedback on low-value transactions, in hopes of deceiving people who only give their feedback page a cursory glance. Do your research thoroughly.
One final tip is to be cautious of sellers with usernames that appear to be an arbitrary string of letters and numbers. Scammers have automated ways of creating eBay accounts and will randomly generate names just to create these accounts as fast as possible.
All this being said, it's still possible that you're dealing with a small-time private seller who's just looking to thin their collection a little bit. If the watch is priced fairly, using these next two tips should help you decide whether to buy from this person or not.
3. Pay attention to the listing description
The next step is to comb through the listing description and look for anything questionable. The goal here is to determine whether we are dealing with an educated seller who knows the product they have, put effort into creating a good listing, and is an effective communicator. This includes things like:
Does the user have high-quality photos of the actual watch? Are these original photos that the seller took themselves or stock photos?
Does the description provide information such as service history, completeness of the set (box and papers, full links), how long they've owned the watch, reason for selling, etc.?
Do the description and eBay details match the photos? If the description is for a Submariner Date and the photos are of a no-date Submariner, that's something to pay attention to.
Also, make sure you're buying the item itself. A classic eBay scam is to sell a picture of the item instead of the actual item. Technically, the seller is within their right to do this as long as it is clearly mentioned in the description. So read the description carefully!
If you have any concerns with the photos and description, note them down for when you use the next tip.
4. Message the seller
In the world of eBay auctions, I suspect this tip might be a bit underutilized. However, messaging the seller goes hand-in-hand with tips 2 and 3. Whether it's checking the seller feedback, listing description, or sending the seller a message, you're trying to paint a picture in your mind of the type of person you're dealing with.
You don't have to like them as a friend, but you need to make sure that they are an effective communicator, upstanding individual, and responsive to your inquiries. If a seller is rude and unresponsive when you message them before you buy the watch, you probably can expect that they'll behave the same way if there's any unexpected issues with the watch after you've received it.
Message the seller to get a more complete picture of them and their watch. It's an opportunity to clear up any questions you might have from looking at the listing photos and description. It's also an opportunity to learn the story of the watch that you're buying.
For example, the Omega De Ville Annual Calendar that I reviewed was a watch that I purchased from eBay. The price seemed quite good and the seller didn't have a ton of reputation, so I messaged them to learn why they were selling and gauge their trustworthiness.
I found out that they were actually employed by Omega and used their employee benefits to purchase the watch at a discount. That explained why it was listed a bit below market price! It also built a stronger connection between me, the watch, and the previous owner. It allowed me to carry on a bit of the watch's provenance with me as I forged its next chapter.
5. Take advantage of eBay rewards
You're happy with the price. You've checked the seller feedback. You've combed over the description, and vetted the seller by messaging them directly. Congratulations. You're almost at the fun part – seeing those dollars pour out of your bank account.
But of course you want to get the best deal possible. This might be when it's time to take advantage of two eBay reward programs – eBay Bucks and the eBay Mastercard.
Any eBay account should be able to sign up for eBay Bucks. What it does it give you cash back for a percentage of each eBay purchase that you make on a quarterly basis. The cash back is presented in the form of a redeemable certificate for your next purchase. The standard cash back amount is 1%, but you can earn as high as 10% with certain semi-regular promotions. Unfortunately, cash back is capped at $100 per transaction, which means you'll max it out on transactions above $1,000.
If you're a more serious eBay buyer, you can also opt for the eBay Mastercard. You'll earn 3 points per dollar on the first $1,000 you spend on eBay in a calendar year, and 5 points per dollar for the remainder of that calendar year. The point redemption rate is $10 for every 1,500 points, so each point is worth ⅔ of a cent.
That means you'll effectively earn 2% cash back for the first $1,000 spent on eBay in a calendar year, and 3⅓% cash back for the remainder of that calendar year. Not too bad if you're a big eBay spender.
Disclaimer: I am not paid by eBay to promote either of these reward programs.
Summary
So that's it. Hopefully, with these tips, you'll be able to maximize your eBay buying experience, avoid scams, and get the most value for your money. There's definitely a ton of opportunities on eBay to find some great watches at solid prices. Of course, don't forget to use resources like our Watch Discovery Page and detailed price charts to research just how much you should be paying for your next watch.
Do you have some tips of your own to share? We'd love to hear them. Chime in using the comment box below.