First I have to send greetings to my old friend RobbieG (wherever you are). Your beautiful photographs inspired me to get this watch back in 2008. Cheers mate!
Now on to the review…
So you want a big, macho watch that weighs 1/4 kilograms? You want it to be waterproof to ridiculous depths (1500 meters)? You want it to survive a nuclear bomb? Yes of course. But aren't all watches that can do this ugly as sin?
Not necessarily. Old Steelfish Superocean (ref. A17390) is a beauty. While it's an XL-sized, bulky watch it still has some very pretty features. My favorite is the dial, which has very nice concentric circles that reflect in the lighting nicely. Not all Breitling dials are very imaginative but the "Fish" dial certainly shines among them. There's not another watch dial that looks quite like this.
There were three different colors available for this model. White/creamy, black and blue. The other colors are equally nice. I briefly owned the black version but being a "blue dial guy" – at the end of the day – blue was the only option for me.
There's also a rarely seen GMT version of the Steelfish available and a day-date chronograph version.
The dial print and details (as you can expect from a Breitling), are first class. Notice how the second hand in this photograph is "square" while it was "arrow-shaped" in the previous photos. This is because my current watch is an older, X-Plus model.
You see, the original X-Plus version came with Breitling Professional I bracelet, which had polished middle links. Pro I is a nice bracelet but polished links don't belong on a hardcore diver watch like this, just IMHO.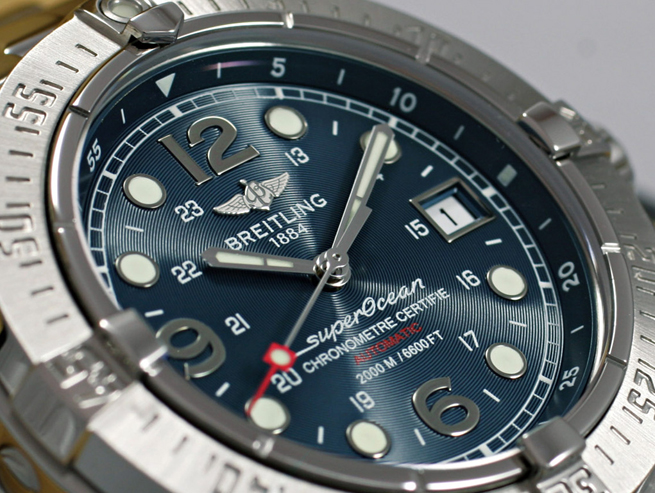 Then Breitling switched to all-brushed Pro 2 bracelet (my watch) before switching to the arrow second-hand version. X-Plus was used in the name because Breitling also produced smaller, rarely seen 42mm versions of this watch simultaneously. When Breitling stopped producing the smaller version, the X-Plus name was dropped.
Besides the second hand, newer watches are 100% identical to my "transitional" model. Confused? You can read more about this from Breitling Source blog:
Transitional model (from 2006 to early 2007) with the "syringe" second hand.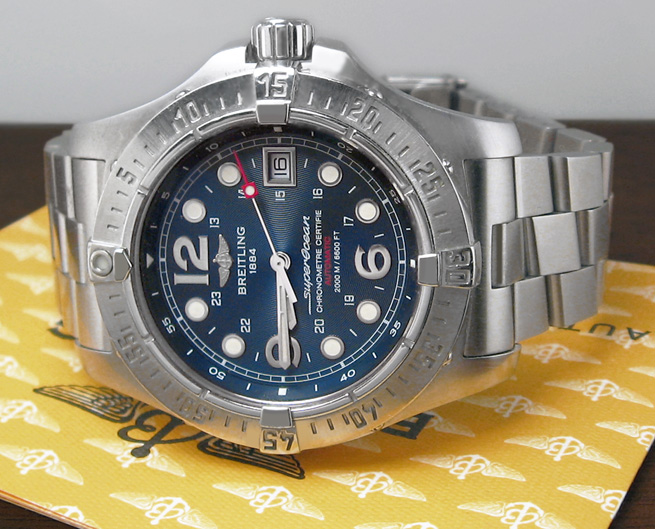 Newest known model with the arrow second hand (late 2007 and newer). Here you can see the very strong double-sided antireflective coating which gives the purple "sheen" to the watch dial.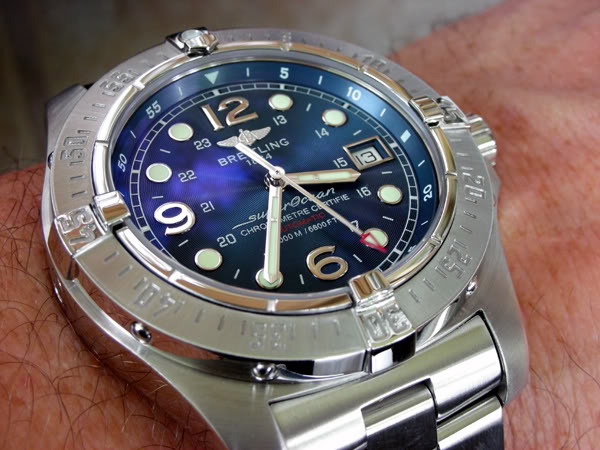 Highly polished steel bracelets have always been Breitling's "trademark". But for some reason, I have always found myself attracted more to "brushed" Breitlings. I find Navitimer "Fighters Edition" and Blackbird very desirable because of this.
I really like the all-brushed Pro 2 bracelet on my "Fish". It's a perfect match for this particular watch. It's butter smooth and high quality like all Breitling bracelets – and the clasp printing is top quality as well. Resizing is easy to do with a micro screwdriver.
Unlike Rolex and Omega diver models (Submariner and Seamaster), the Pro 2 band doesn't have a diver's extension deployment in the clasp.
You can also see the Helium Escape Valve (HEV) on the side of the case.
Rolex patented the design with their Sea Dweller model and many other watch manufacturers have copied and mimicked this system since.
HEV is a water-safe way to release the case pressure without allowing moisture to damage the mechanism.
It's a one-way valve that is spring-loaded to respond to a specific level of pressure. The valve is automated: when the watch reaches the designated pressure differential, the valve releases the gases that have become trapped during prolonged underwater exposure.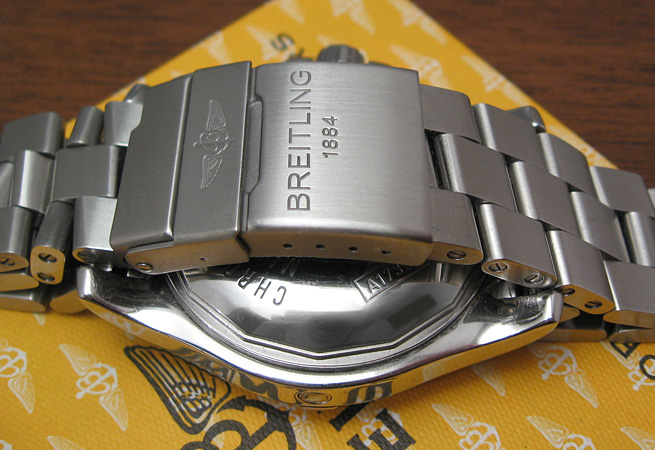 Back in 2008 when I saw my friend Robbie's photos of this watch I sold my 42mm Planet Ocean immediately, bought this and never looked back. It has remained my favorite diver's watch and my 16610 Rolex Submariner has played the "second fiddle" ever since.
The base movement is a standard ETA 2824-2 which Breitling modifies and calls it "Breitling Caliber 17". It has 42 hours of power reserve. It's a rugged but one of the most robust mechanical movements ever made (photo courtesy of Breitling).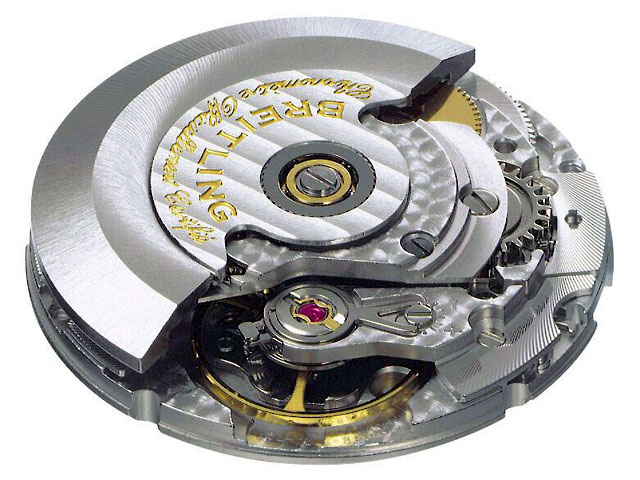 The new model SuperOcean (ref A17392D8.C910.211S) replaced this model in the Breitling catalog. My watch (A17390) was discontinued back in 2012. The new SuperOcean is a nice watch but it has never "grabbed" me like this old model did. Personally, I think the new dial is kinda "bland" in comparison.
Steelfish, however, is not for everyone. It's a big watch. Not that the 44mm diameter is anything special by today's standards (now that people wear ridiculously big clocks on their wrists) but it's thick and bulky. And at one time it was the heaviest diver watch on the market. So you definitely need a decently sized wrist to wear one. It wouldn't look good on a very small guy. But then again it's all relative. If you are used to something Super Avenger, even "Fish" will probably feel small. Here you can see it in comparison with my Rolex Sea-Dweller 16600.
I have owned three different Steelfishes. Black 2010 model, 08 blue model and the current one that I have (the transitional 2006 model). Some people I know call watches "keepers" after just a few months of use. I've had this watch in my collection for almost 10 years and whenever I put it on, it always feels "fresh". So I guess I can safely call this "a keeper".
Thanks for reading. And feel free to comment on this post – or ask questions down below in the comment section.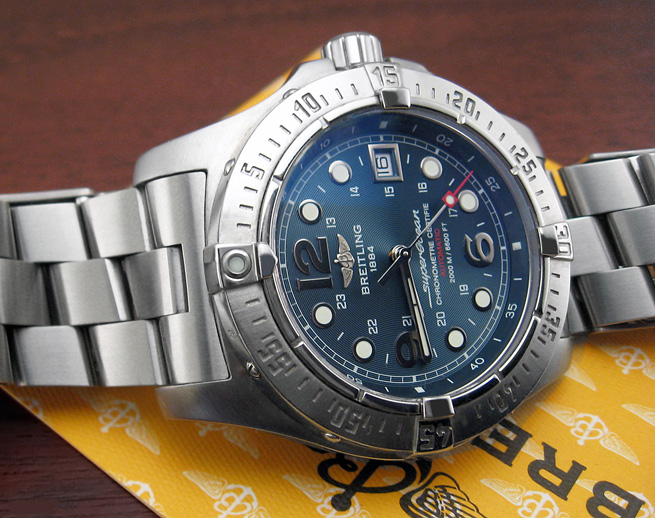 Thank you to JP from Finland for the original article. You can find it here.